These hand-crafted, giant wooden games are of excellent build quality and provide hours of fun for everyone. Perfect for birthdays, socials, weddings, corporate events and really anytime when you're looking to have fun. And while these are premium products you will not have to pay premium prices to rent them from us. 
When you rent our yard games, you help support our organization's Social Enterprise growth. We're able to provide meaningful employment to adults with intellectual disabilities in small, approachable tasks that help build their working experience. 
Connect 4
Includes giant game grid, 21 red discs and 21 brown discs.
The giant wooden connect 4 game is perfect for any social event. At nearly 4ft long by 4ft tall by 2ft wide, this game is the giant version of the classic table-top game which can only be transported by use of a truck.
Warning this game should be used on a flat, level surface. Do not allow children to hang or climb on this game. Doing so may cause the game to tip over causing bodily harm or damage to the game. If you need to move the game it must be lifted by two adults with one on either side. This game cannot be disassembled.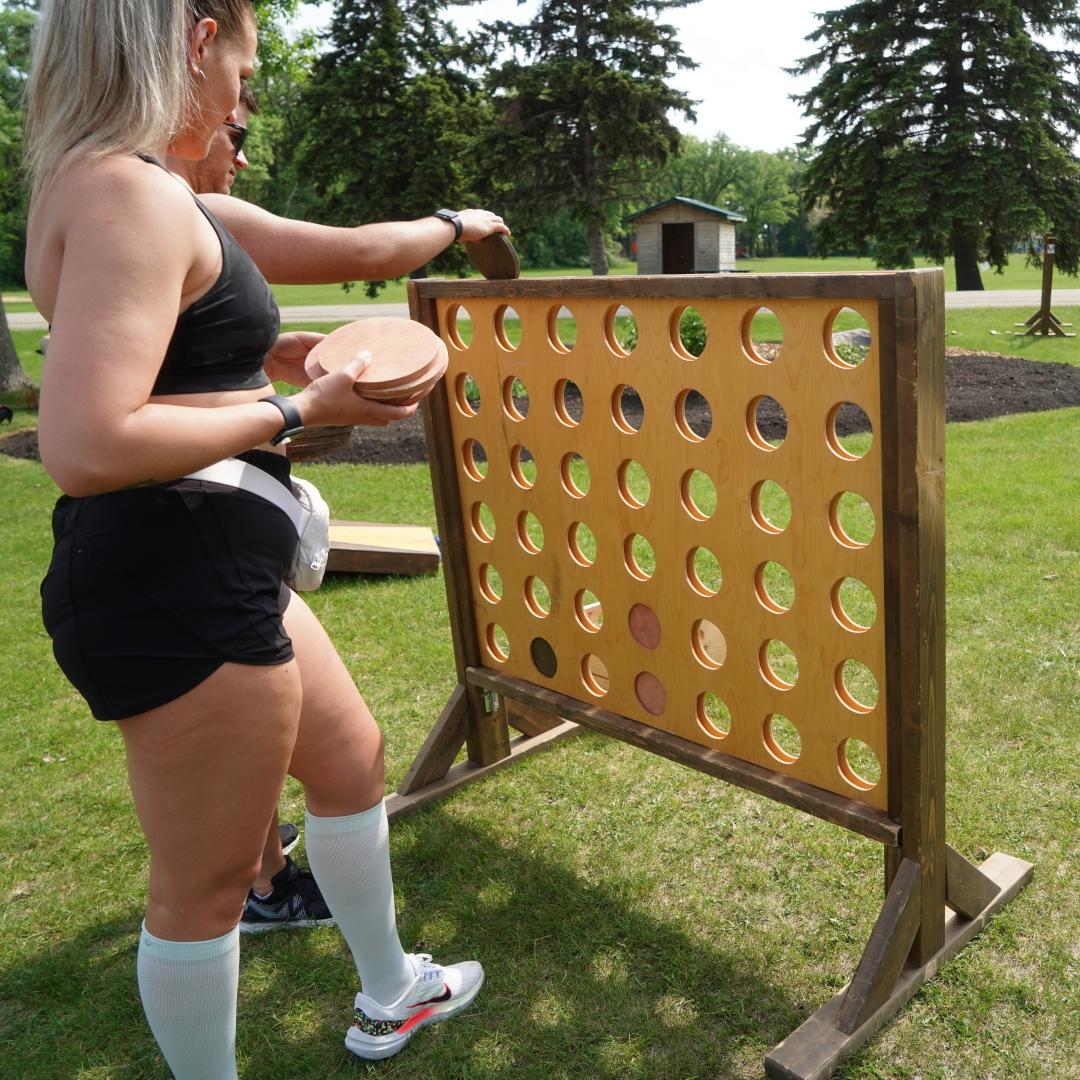 Jenga
Includes 48 wooden blocks and wooden carrying case.
This giant Jenga game is the life-sized version of the popular tabletop stacking game that can rise to over 5ft high. This game includes 48 precision crafted hardwood blocks, each of which are over 14 times the size of the classic Jenga block.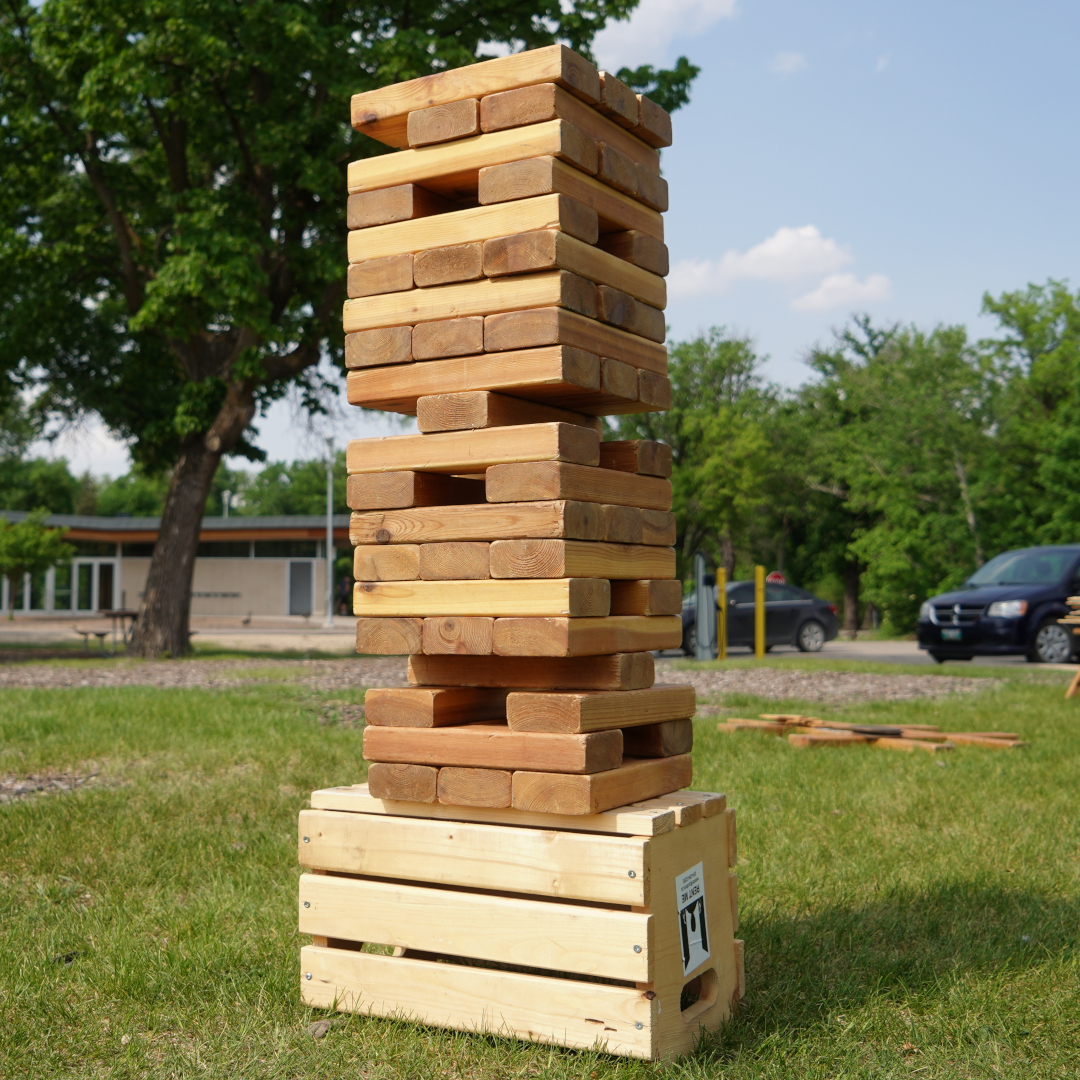 Cornhole Toss
Includes target board, 3 red bean bags and 3 blue bean bags.
This game requires players to stand behind the throwing line and take turns tossing bean bags into the hole in the board trying to score the most points.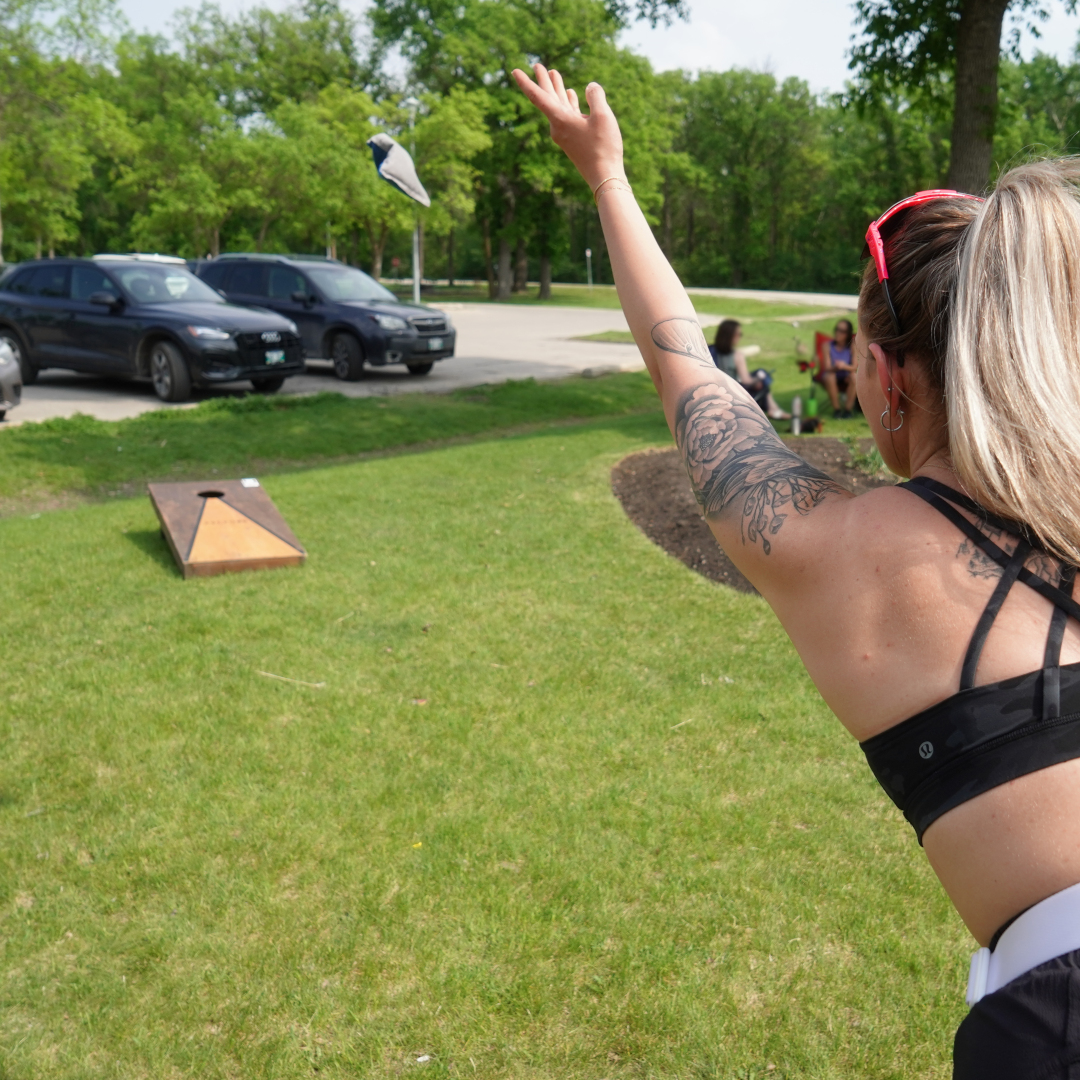 Giant Tic-Tac-Toe
Includes four wooden boards that assemble into the grid as well as 5 wooden X's and 4 O's.
This giant version of the pen and paper classic is played with giant wooden pieces. Two players compete to have three X's or three O's in a line on a 3x3 grid.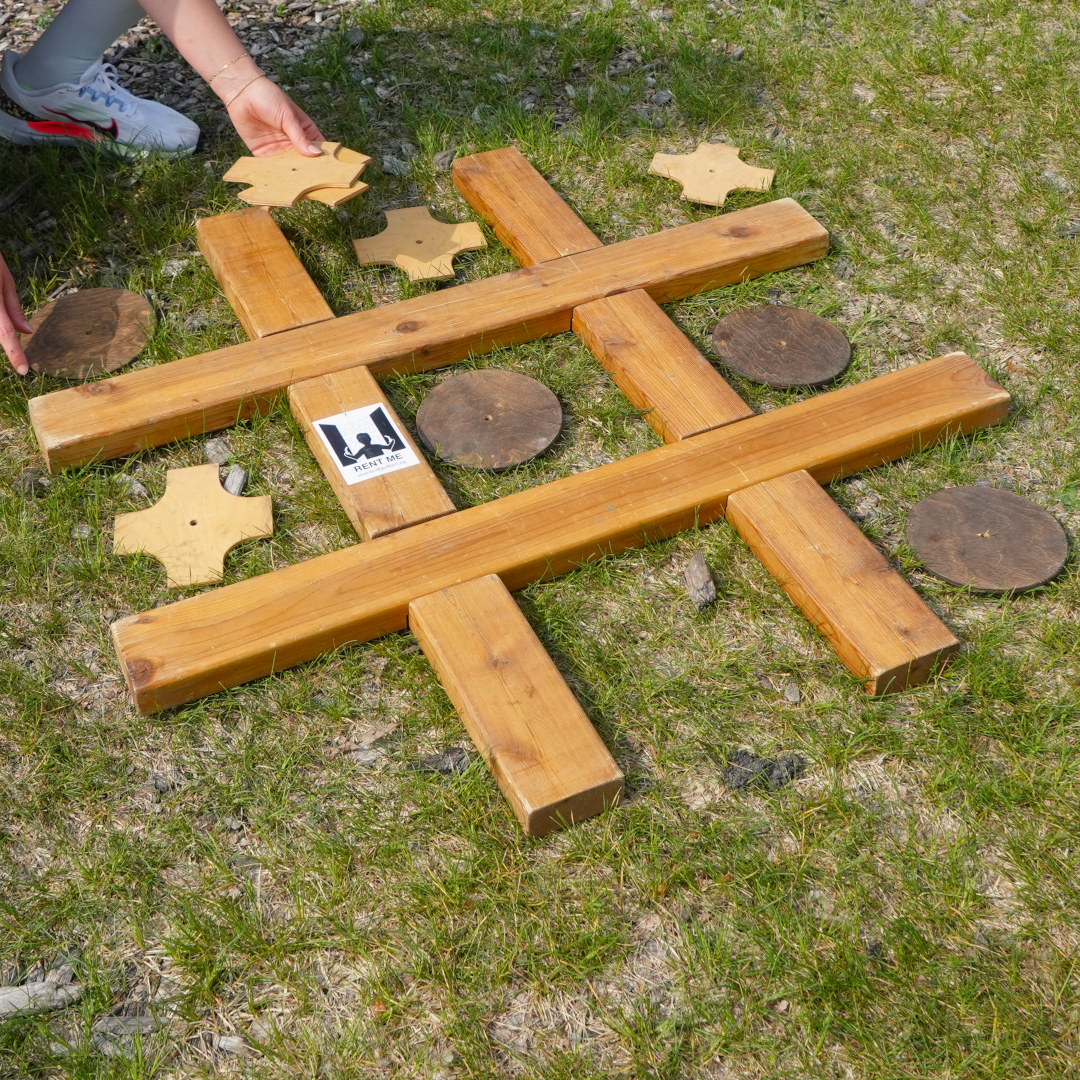 Giant Dominoes
Includes 24 game pieces and a carrying box.
Take your dominoes game to a whole new level with this giant version beautifully handcrafted and painted.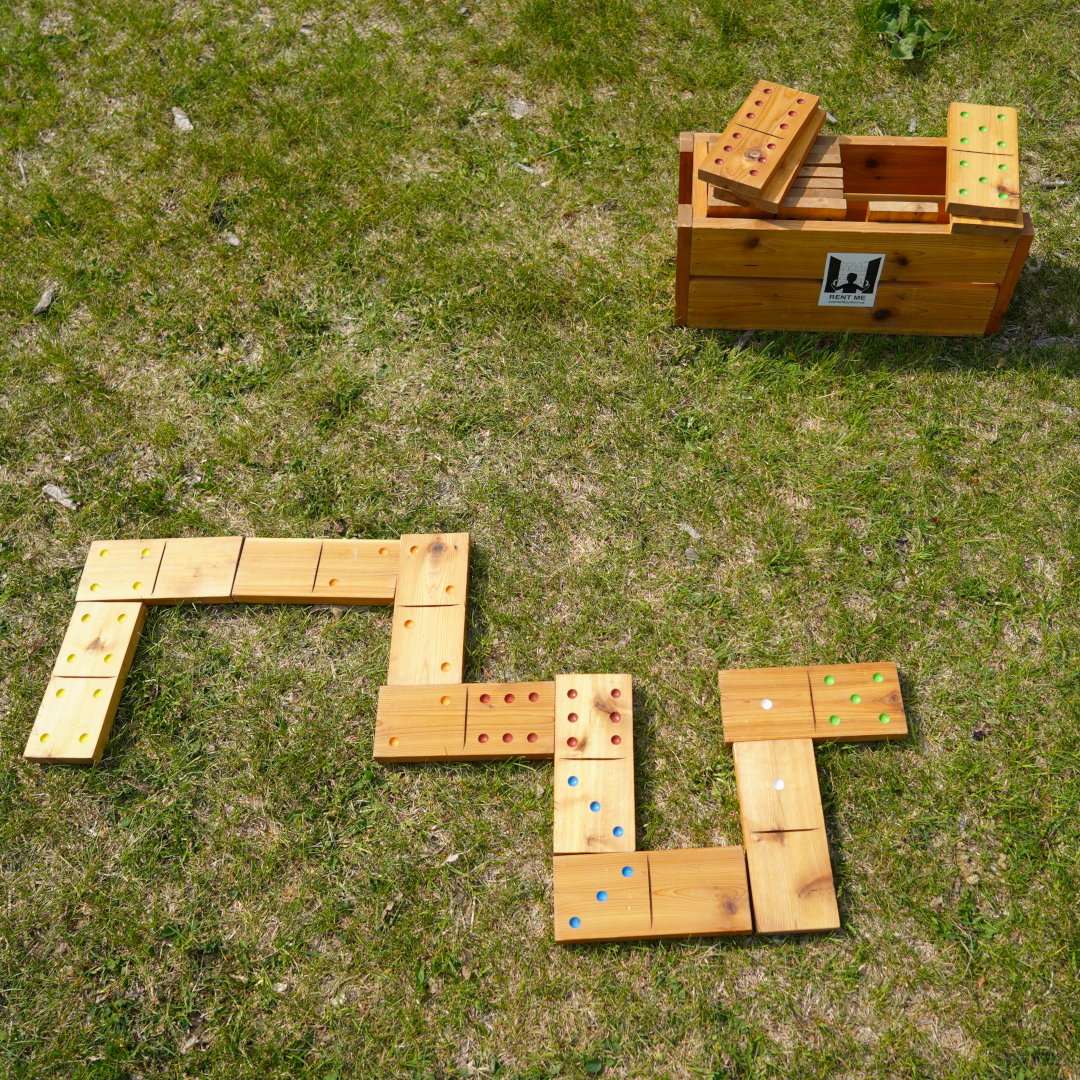 Giant Yardzee
Includes 5 wooden block die and a carrying pail
Another classic tabletop game scaled up to giant proportions. Yardzee is the dice matching game all grown up.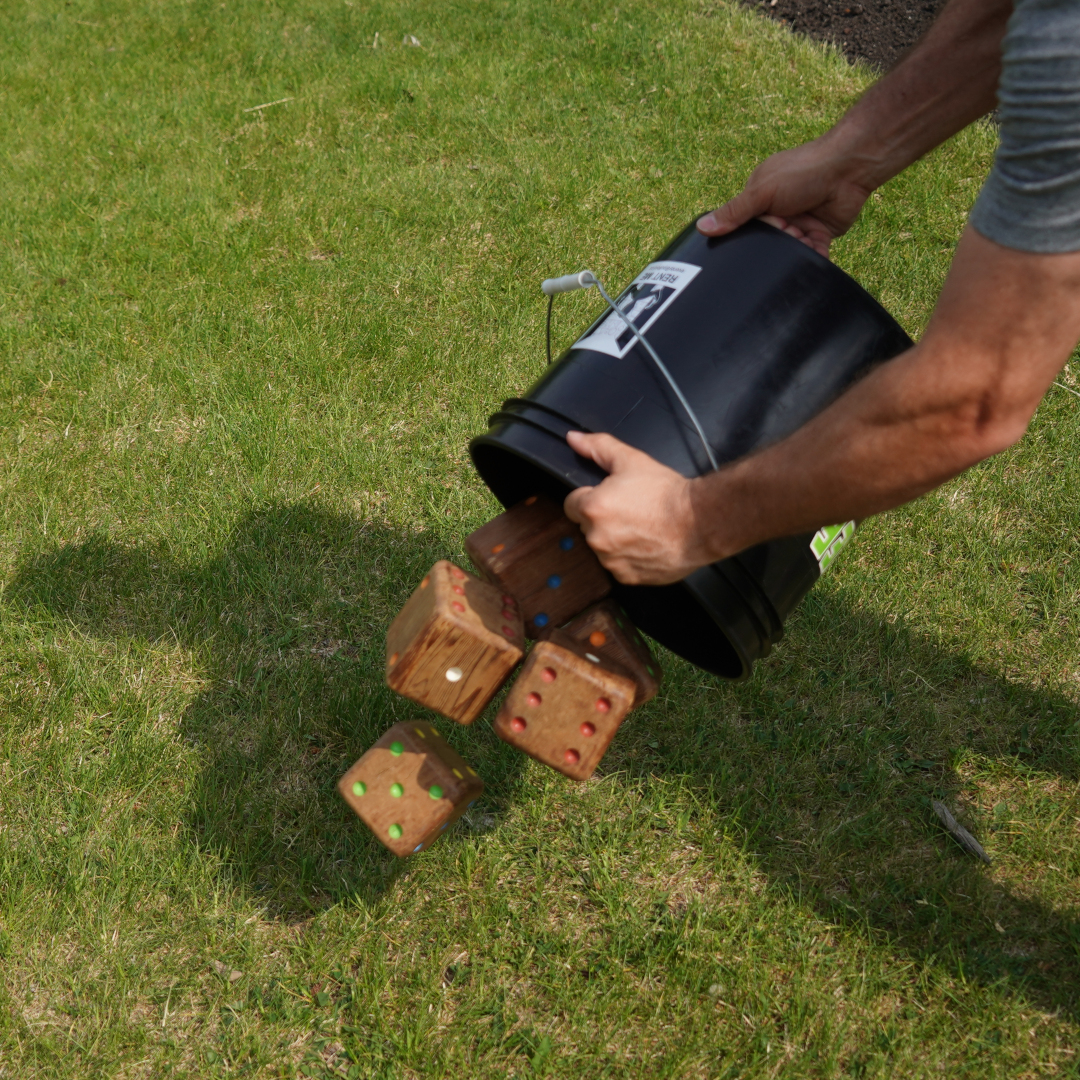 Ladder Golf
This game involves tossing two wooden cubes tied together with string on a series of rungs on a ladder to score points.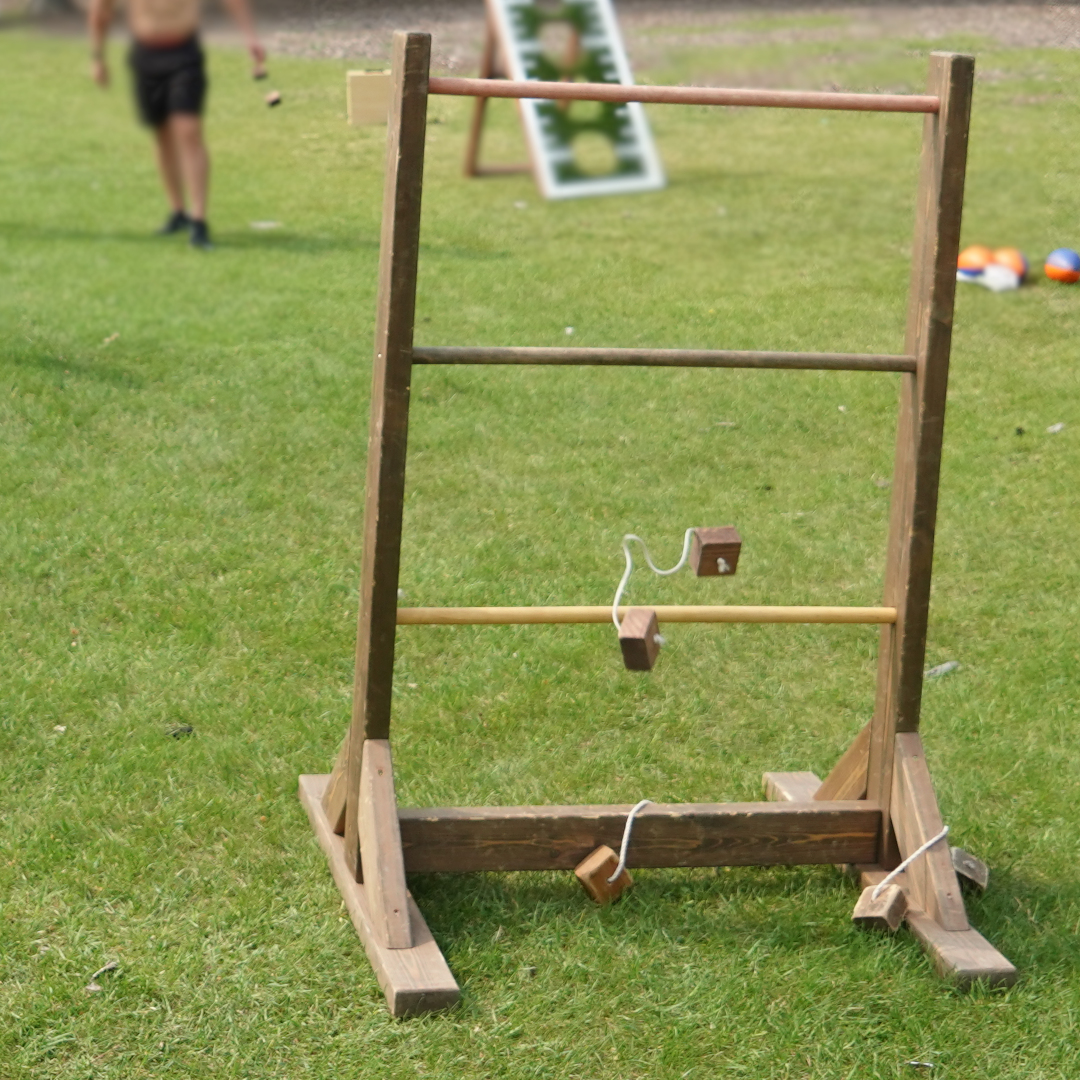 Cliff Hanger
One game stand and 4 bean bags.
Try to land a bean bag on the different tiers, extra points if it's hanging off the edge!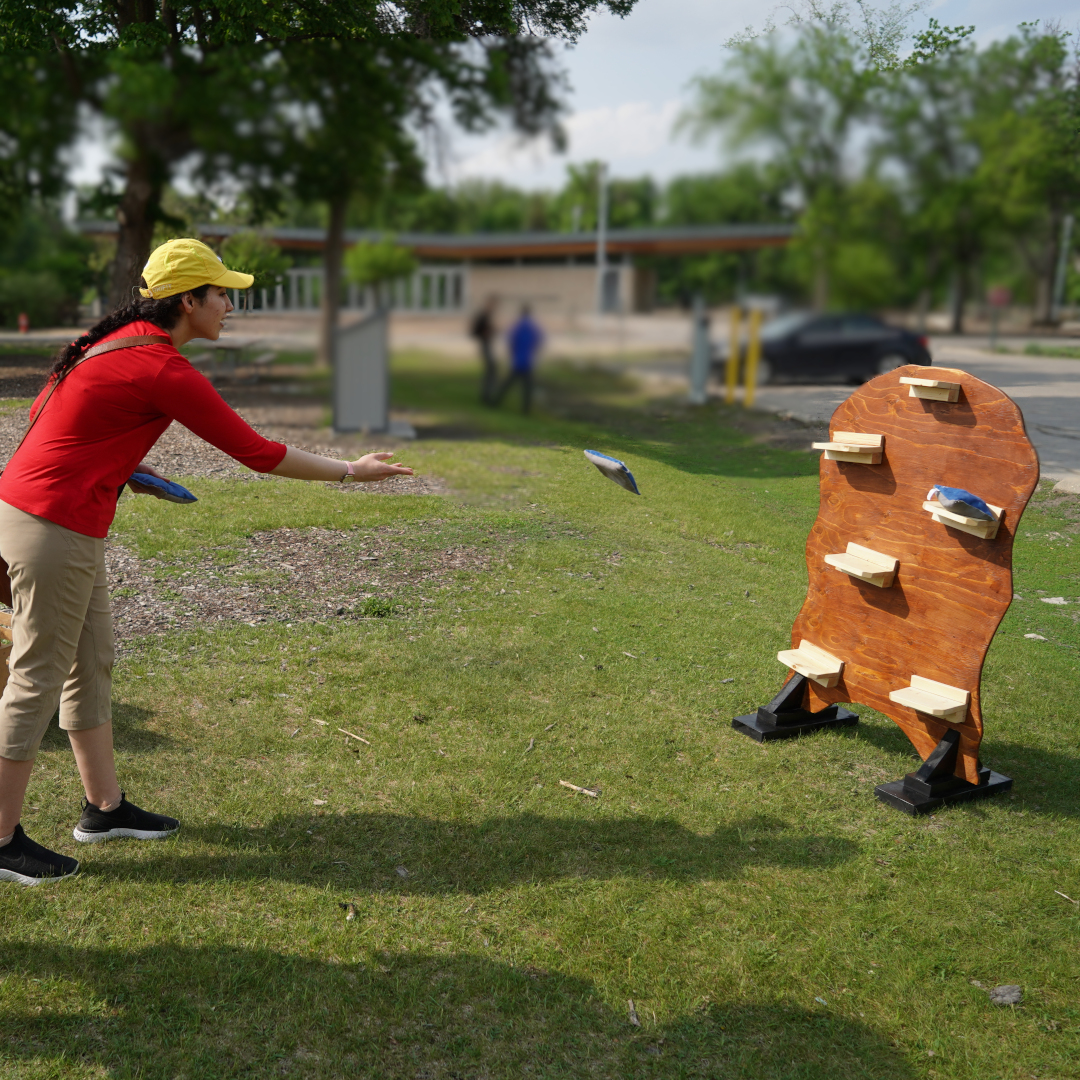 Target Football Toss
Comes with three footballs and the wooden scoring stand.
Toss footballs into differently sized holes to win points!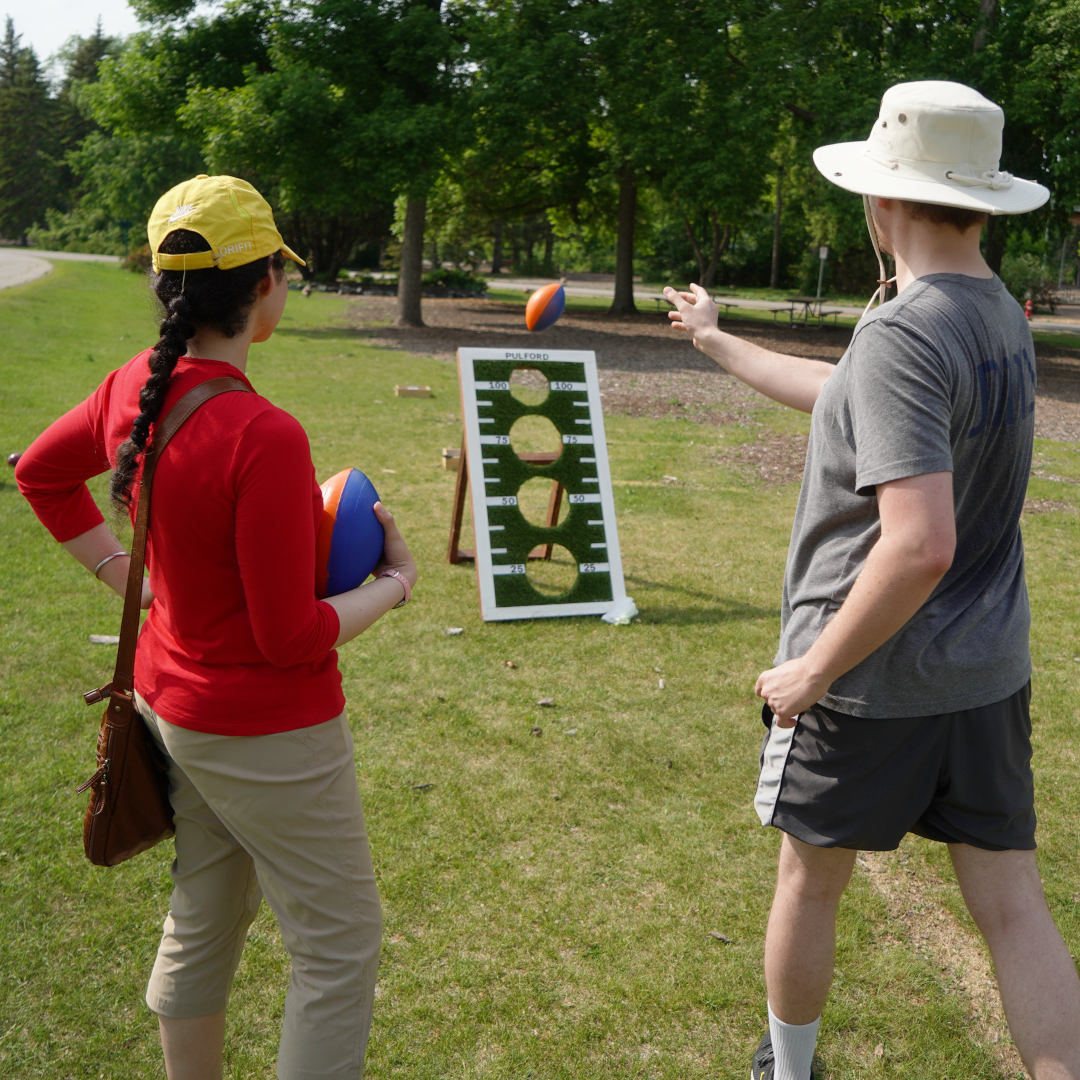 Ball Drop
Comes with colourful plastic balls, sticks and the game itself.
Remove sticks from the cylinder while dropping as few balls as possible! The person with the least amount of balls when all balls have dropped wins!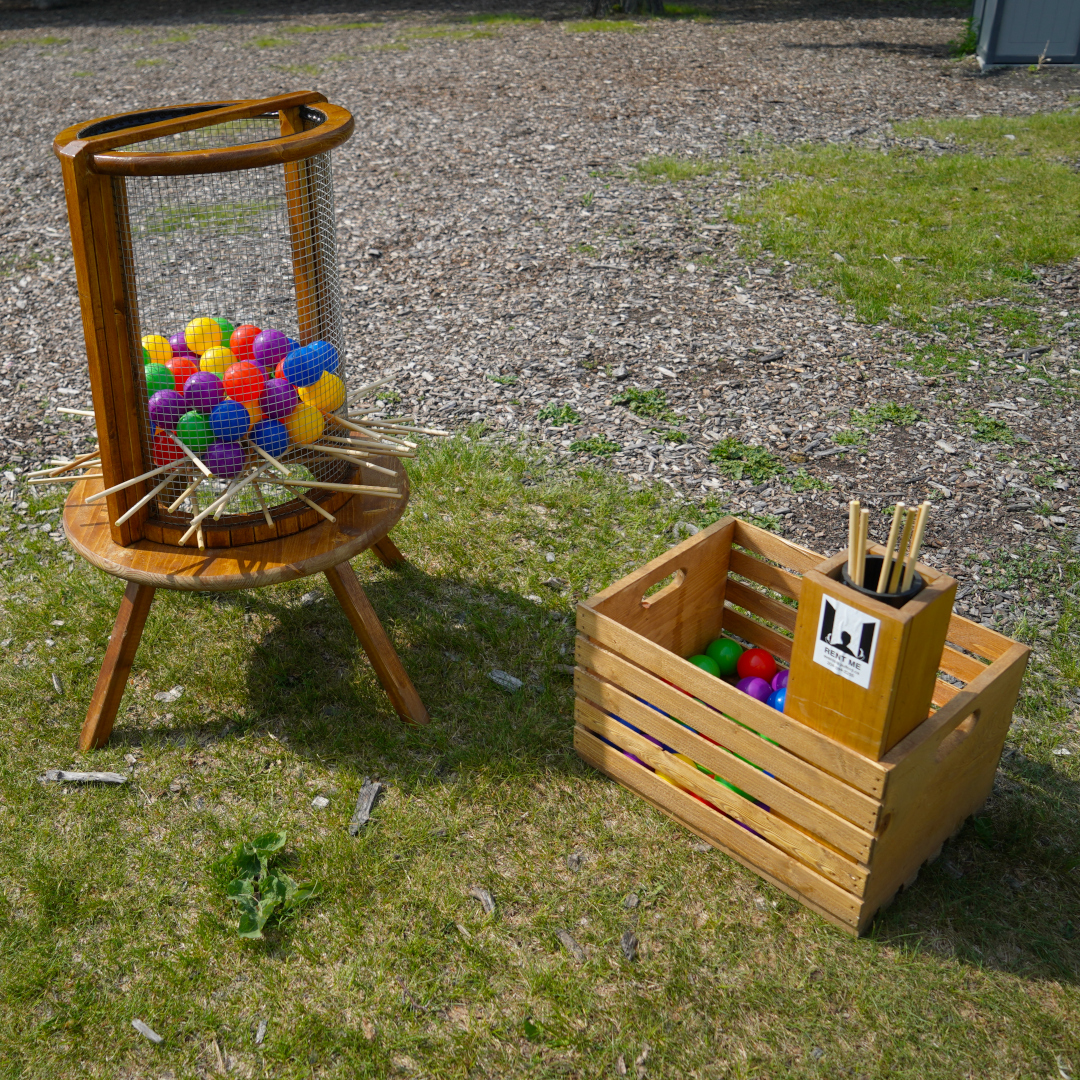 To book our games, fill out the form below!
| Game | Week Day Rate | Additional Day | Weekend Rate |
| --- | --- | --- | --- |
| Jenga | $40 | $15 | $55 |
| Tic Tac Toe | $25 | $15 | $40 |
| Connect 4 | $50 | $15 | $65 |
| Cornhole Toss | $40 | $15 | $55 |
| Ladder Golf | $45 | $15 | $60 |
| Yardzee | $35 | $15 | $50 |
| Dominos | $25 | $15 | $40 |
| Washer Toss | $35 | $15 | $50 |
| Bocce | $40 | $15 | $55 |
| Cliff Hanger | $40 | $15 | $55 |
| Ball Drop | $35 | $15 | $50 |
| Target Football Toss | $40 | $15 | $55 |
| Due to limited availability we ask that you book as far in advance as possible | |
| --- | --- |
| 6+ Games | 5% off |
| To rent for an extra day is only $15 per game! | |